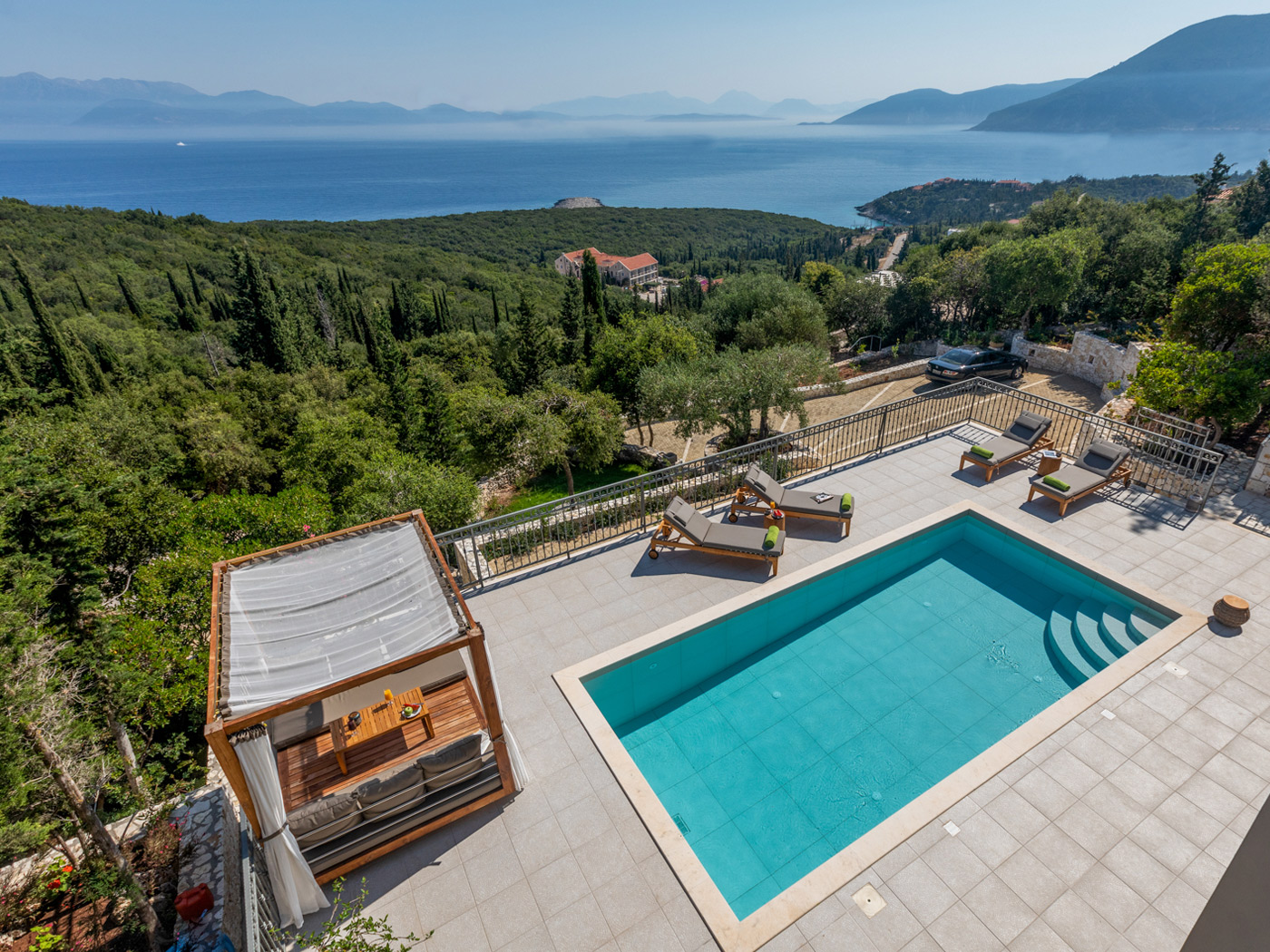 Location
AMNERIS VILLA FISCARDO KEFALONIA
Top Villa in Fiscardo, walking distance from Fiscardo village and Emblisi beach.
Kefalonia Villa Amneris located in the peaceful village of Germenata Kefalonia, ideal for those seeking seclusion, peace and tranquillity.
Kefalonia Villa Amneris is situated only 1 km from Fiscardo Kefalonia, with its colourful array of shops, restaurants and cafes and 1km also from the beautiful beach of Emblisi. The place is ideal for various activities, with easier -but at the same time amazing- hiking among lush vegetation, the marked trails of the village, that are waiting to be explored.
Staying at Villa Amneris does not require a car, as it perfectly combines everything a visitor seeks. The beaches Emblisi and Foki (both famous and beautiful), is within 10 and 15 minutes on foot.
If you have the opportunity to rent a car, Regina can propose a partner and give you valuable tips for exploring the island and its many -well hidden- beaches and attractions. Finally, if you need a taxi for your island transfers, or transfers from/to the airport of Kefalonia, Regina can call and arrange an appointment for you, taking care of everything on your behalf.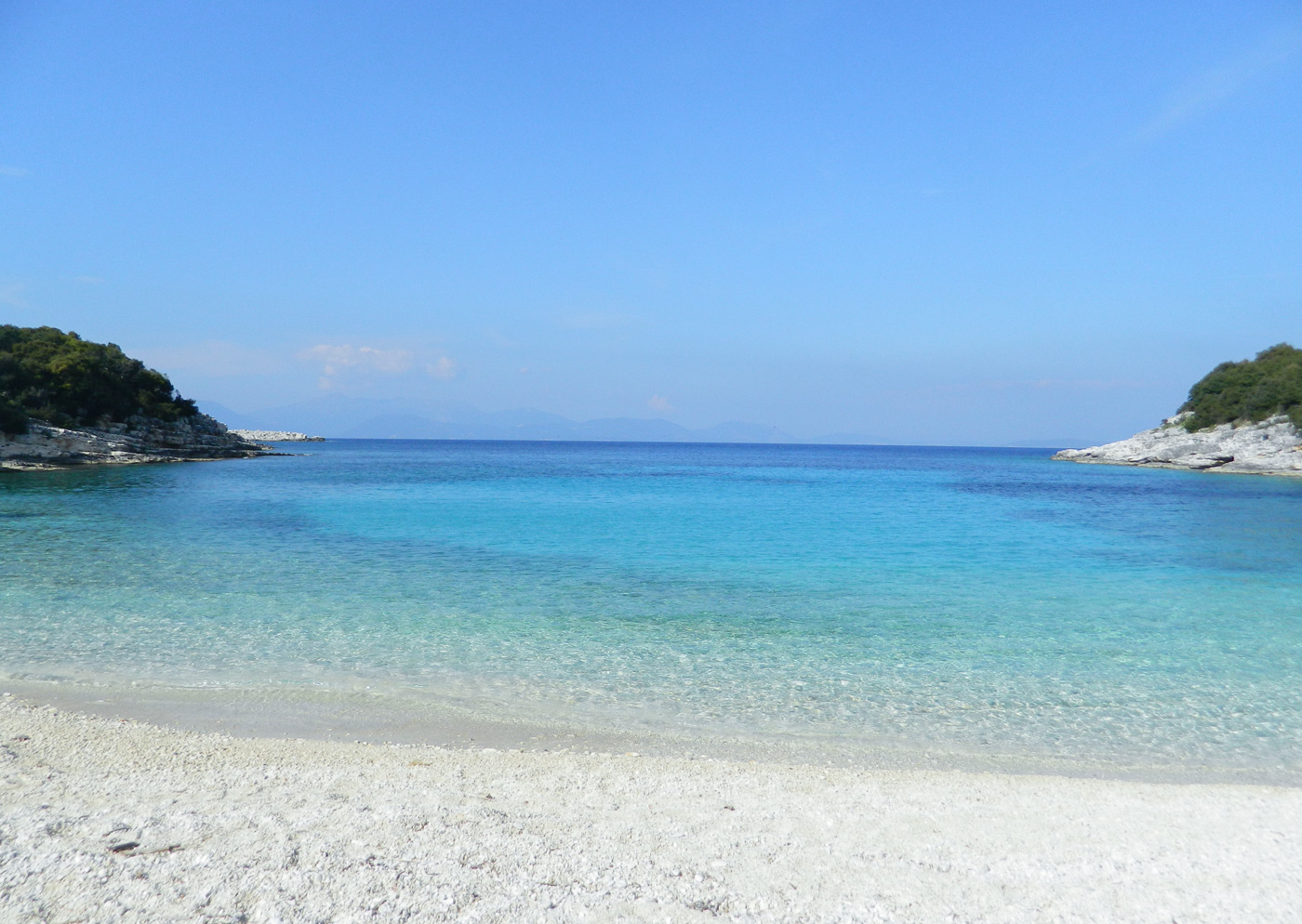 Visit Regina's Fiscardo Boat Rentals!
Explore private coves and stop for a swim, visit parts of the coastline or eat a picnic lunch on a secluded beach far from the bustling crowds. Enjoy the unique marine life, go fishing, scuba diving or just cruise and snorkel around..... you are the captain!
The rental price of the villa includes a deluxe boat renta!. A typical day trip aboard one of our comfortable and modern boats can include many activities, that will remain in your memory forever. The calm and safe waters of Fiscardo area are ideal for cruising and also just a few minutes away from Ithaca which you can visit if you want to. An experience not to be misseed!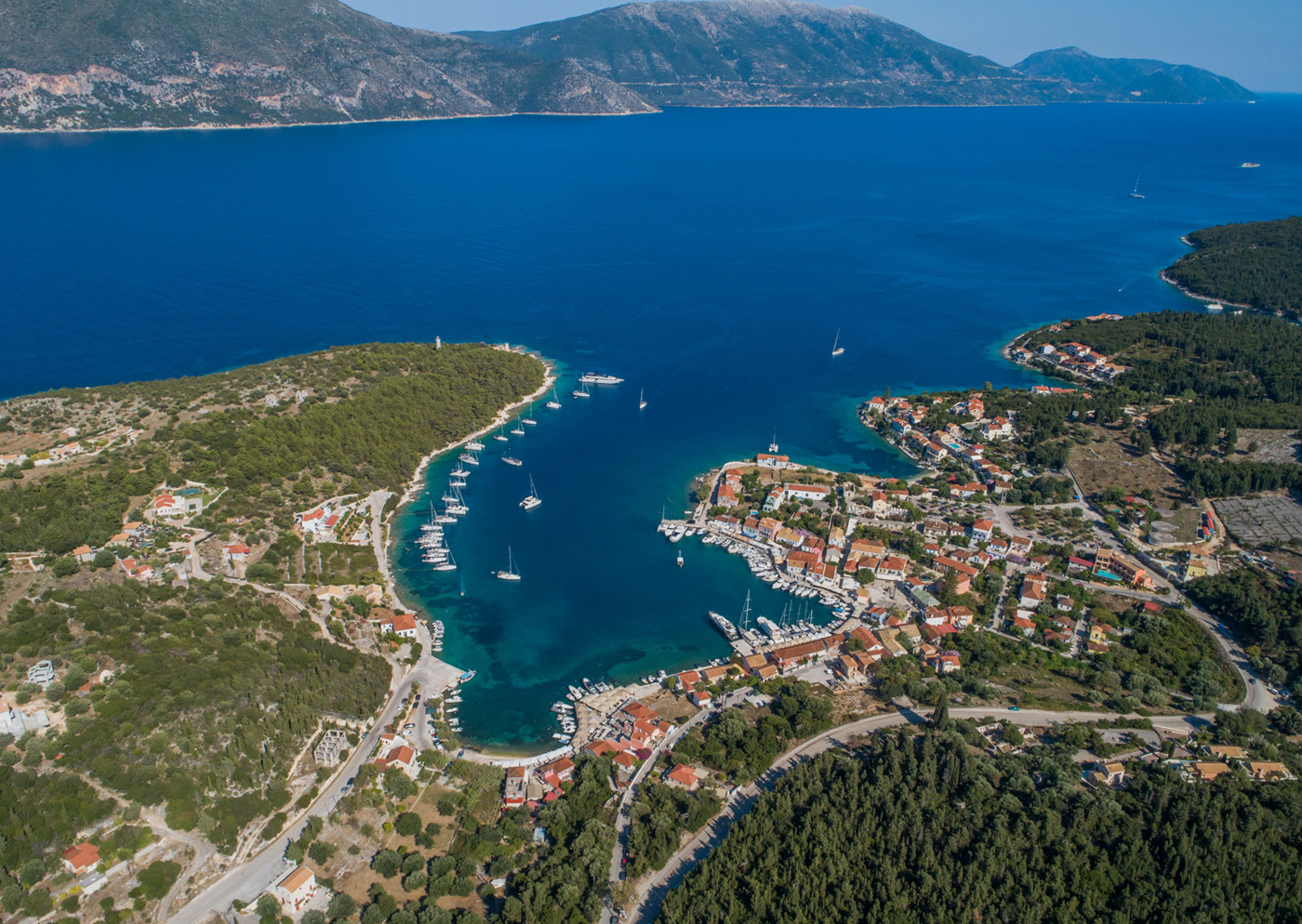 Fiscardo Village
Welcome to Fiscardo, the picturesque and beautiful Greek harbour village on the Northern tip of Kefalonia.
Robert Guiscard, the greatest enemy of Byzantine Emperor Alexios Komninos, trying to conquer the north Kefalonia, he has left not only his last breath in Fiskardo in 1085 but also his name.
Of the approximate 365 villages on this large and diverse island, Fiscardo is unique in that it was left virtually unscathed during the great earthquake of 1953, that ruined most of the islands historic buildings.
The traditional boats of Kefalonia pleasantly coexist with any kind of tourists during the summer. If you wake up early enough you can buy fresh fish. Or a walk around the port will make you see some of the most luxurious yachts. Many of them are rich and famous, who are attracted by the tranquility of Fiskardou. To Fiskardo at night gets an entirely different view. The lights, the old buildings, cafes, bars and restaurants all combine to provide a magical Mediterranean atmosphere. Of all the villages in Kefalonia, Fiskardo singles having a special atmosphere, especially on a summer evening.
Distances
Centre of Fiscardo: 1,3 km
Restaurants: 700m
Supermarket: 700m
Emblisi beach: 800m
Foki Beach: 2km
Kimilia Beach: 1,8km
Dafnoudi Beach: 3,6km
Assos: 15km
Myrtos Beach 23km
Airport: 55 km
Argostoli: 47 km
Sami: 36,6 km
ACTIVITIES
Regina's boats offers a wide range of boats for hire in Fiscardo Kefalonia. Hundreds of tourists visit us every year and they are excited by the experience. Hire one of our boats in Fiskardo and find your own little piece of paradise for a day. It's easy, exciting but first of all safe! There is no need of any driving license.